The New Loup Elite Drill Monitor provides accurate Seeds/Acre population for any drill, Air Seeder or Planter. Log field maps to SD Memory, view section averages, control active sections and more through easy-to-use Touchscreen display.
The Loup Elite Drill Monitor is a universal population and blockage monitor for any gravity drill or air seeder. Our highly accurate seed sensors track application rates, allowing you to make sure the implement is seeding correctly. The display allows the user to choose and display up to three functions simultaneously. User-friendly menus allow the user to change what is being displayed, turn sensors on and off, and change any drill settings.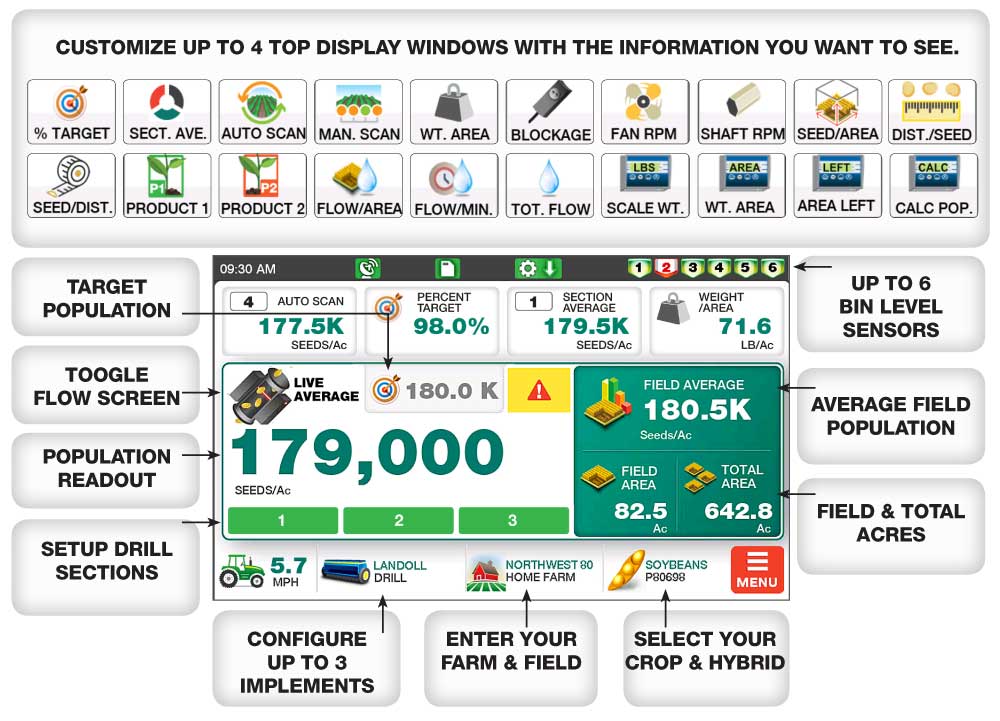 "I have been very pleased with the Loup. It performed exactly as advertised. I use my Landoll drill to plant milo in 30 inch rows and beans in 7.5 inch rows. For milo, the monitor indicated a rate of about 46,000 and when I completed planting and weighted the seed left over, our rate was about 45,500! The unit seemed to do a great job in beans. In planting beans I know I saved more in seed than the Loup unit costs. Overall I rated this product as a must have for a low cost seed monitoring approach."
Images
Seed Savings
The Loup Elite Drill Monitor can help your operation save considerably with seed cost. Based on normal seed rate of 200,000 seeds/acre, the average over plant is 10%, or 220,000 seeds/acre. By eliminating that 10% in over plant, the potential is there to save thousands on seed cost alone. This does not include other factors such as catching mechanical failures and time saved.
Other monitors that are commonly used on planters will offer only 80% – 85% accuracy under a drill fluted seed cup. Get accuracy better than 95% with the Loup Electronics drill monitor and start saving today.
Or call 402-464-7131 and we can put together the exact cost to monitor your drill.

Display Features
Easy to use Touch Screen operation
True population for up to 48 Rows.
Display Independent section averages
Set your target population rate
Log Field Maps to SD Card (sold separately)
Load data into multiple mapping platforms including Google Earth.
Learn up to 3 implements including planters.
Bar graph display when monitoring planters.
Optical blockage for up to 192 Rows.
Over 95% Accurate in Soybeans.
Dispays up to 6 shaft RPM's.
Bargraph display for up to 6 hopper levels.
Fan Speed
Direct readout for Seeds/Acre, Seeds/Foot, LB/Acre and more.
View & change up to 4 display options on one screen.
Advantages