Color Touchscreen Wheel Loader Scale with data logging up to 50 products and 100 customers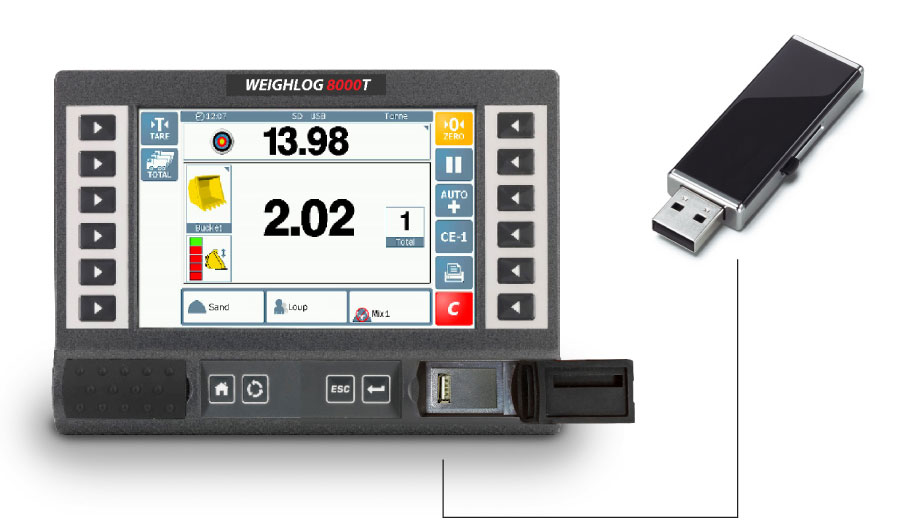 Easy to use 7'' color touchscreen display
Data collection via USB Memory Stick
Live last bucket Tip-Off
Load on the go, no stopping the machine or bucket
Manage up to 100 customers, 50 trucks, and 50 products
Target loads
Optional Printing capability with ICP 300 Printer
Pre-Set tare function, Net Weighing for pallets & containers
Automatic speed compensated dynamic weighing
Features
Easy to use 7'' color touch screen display
The Weighlog 8000T features a full touchscreen display with a collection of icons surrounding the screen and physical push buttons along the bottom and sides of the display. Most operation of the 8000T scale is done using this display.
Stores up to 100 Customers and 50 Products
The Weighlog 8000T scale can store up to 50 Products and 100 Customers. Customizable through the corresponding icons on the touchscreen display. In addition, customer defined target loads are automatically associated with each product.
Load on the go, no stopping the machine or bucket
Increased loading efficiency by never stopping the machine to weigh a bucket, ultimately improving your bottom line.
Data Logging via SD card and USB Memory Stick
Customer, product and load information can be stored through either SD card or USB memory, depending on your preference.
Target loads
Define target loads per truck or customer. Further increasing loading efficiency.
Optional Printing capability with ICP 300 Printer
Print receipts in cab of each load for your customers or your own records.
Benefits
Accurate On Board Weighing
Weighing your load correctly from the wheel loader saves time by reducing trips to the scale, increasing efficiency and profit.
Simple to Use
The touchscreen display is extremely responsive and easy to use. Easily configure your customer and product data, target loads, loader attachments and more. Large weight readings are easily visible and a small form factor provide for an unobtrusive view of your operation.
Data Management
Manage a collection of information on products, customers and loads. Built in SD and USB memory for storage and in cab printing capabilities can further help manage your operation.