UPGRADE 8000i TO ELITE YIELD MONITOR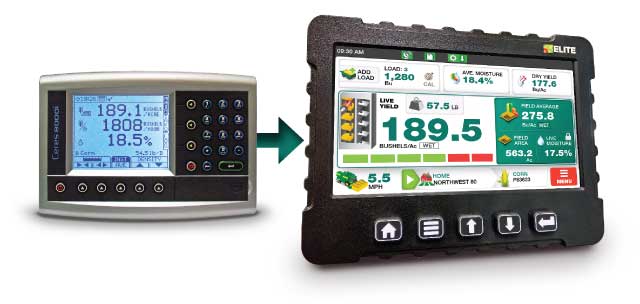 The New Elite Yield Monitor is backwards compatible with legacy Ceres 8000i and Pro Series 8000 yield systems. Upgrade your existing 8000 or 8000i yield monitor to provide easy color touchscreen operation, on-screen field mapping, Google Earth support, individual load management and more all while retaining your existing sensors and harness.
Call Loup Electronics today at 877-489-5687 or submit a quote request to learn more.
Display Features
7 Inch Color Touchscreen
Yield (Bushels per Acre)
Grain Moisture Content (% Moisture)
Ground Speed (MPH)
Field and Total Bushels
Wet or Dry Bushels
Area (Field and Total Acres)
Bushels per Hour
Track Each Load Harvested
Instantaneous or Average Readings
Header Up/Down Indication
Modern, Easy to use Interface
Time of Day
Visual Indication and Adjustment for Cut/Header Width
Built in SD Drive for Data Logging
Two Customizable Windows for the information you want to see
Non-Contact Field Proven Yield Sensor