Advanced Dual Purpose Wheel Loader Scales and Reverse Camera
The Loup Weighlog Vue is one of the most advanced Wheel Loader Scales available using the latest sensor technology to provide the most accurate and consistent weight readings. With a built-in video input the Weighlog Vue removes the need for an additional screen for reverse camera, freeing valuable cab space.
Advantages of Loup Wheel Loader Scales
Increased Efficiency: Loup loader scales enable operators to accurately measure and track the weight of materials being loaded. This helps optimize the loading process by ensuring that the desired weight targets are met, reducing underloading or overloading. Improved efficiency leads to increased productivity and cost savings.
Prevent Overloading: Overloading a wheel loader can have safety implications, as well as potential damage to the equipment and excessive wear on tires and suspension components. Wheel loader scales provide real-time weight information, allowing operators to avoid exceeding the load capacity and maintain safe operating conditions.
Accurate Load Tracking: With Loup scales, operators can precisely measure the weight of each load. This information is valuable for inventory management, billing, and tracking productivity. Accurate load tracking can help with resource allocation, identifying potential discrepancies, and optimizing logistics.
Reduced Material Waste: By accurately weighing the materials being loaded, wheel loader scales enable operators to load the exact required amounts. This helps reduce material waste and minimizes the need for rework or additional processing, resulting in cost savings and environmental benefits.
Enhanced Profitability: The combination of increased efficiency, reduced material waste, and improved accuracy in load tracking can lead to enhanced profitability for businesses using wheel loader scales. Precise measurement and control of material weights can optimize operations, reduce costs, and improve revenue generation.
Loup Link Ready
Automatically send load records to a central location as they are completed from any location.
Compatible with Loup Link software for wireless loading data transfer. With it custom load reports can be created based on criteria such as Product or Customer name or material loaded over a specific date range. Click here to read more.
Customer Testimonials
Features
Easy to use 7'' color touchscreen display with additional physical keys
Data collection via SD card and USB Memory Stick
Video input allows for Reverse Camera function
Wireless Data Logging via WiFi, Email, 3G and more
Live last bucket tip off at any position
Load on the go, no stopping the machine or bucket
Up to 4 Pressure Sensors
Target loads
Optional Printing capability with ICP 300 Printer
Advanced weighing mode for even greater accuracy
Large display showing bucket load, target load, customer name, material, time of day and more
Automatic speed compensated dynamic weighing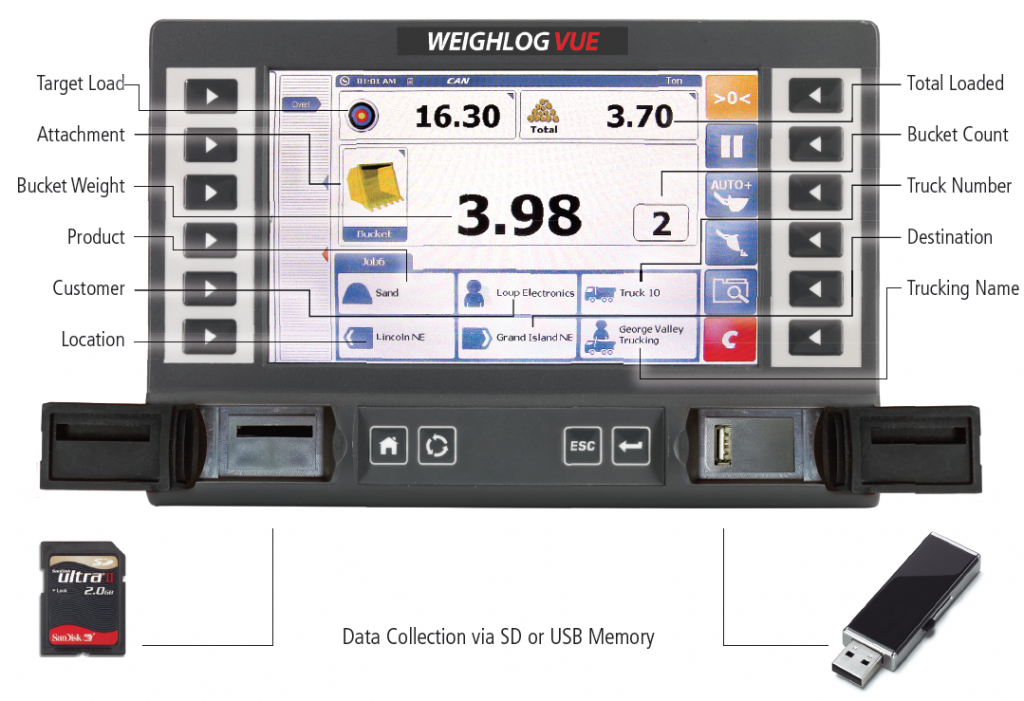 ICP 300 Printer
Use with model 200, 3030, 8000i and Vue
Automatic printing
Automatic time and date
11-30v DC operation
In cab mounting