The Loadlog 8000i is a legacy wheel loader scale and since been replaced by Weighlog Vue.
Videos
Loup Electronics Wheel Loader Scale Basic Operation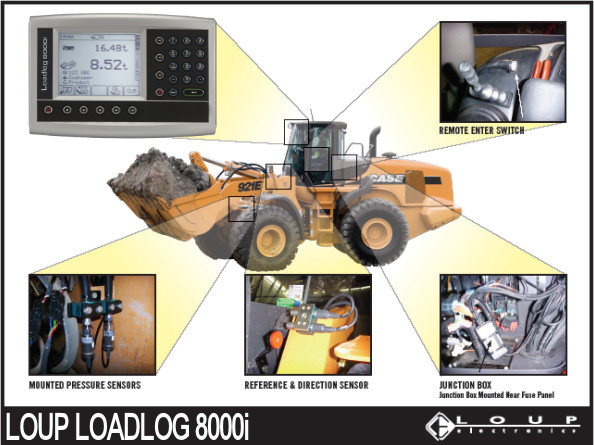 To predict the Weight in the Bucket of a Wheel Loader requires three factors be determined.
Hydraulic Pressures.
Speed of the Lift.
Position of the lift arms.
To accomplish this, the Loup Electronics Load Log 8000i uses 2 hydraulic pressure sensors, one in the pressure and one in the return for a calculation of differential pressure. A reference and direction sensors "tells" the scale the direction of travel and Position of the lift Arms and also calculates the Speed of the lift.
Each of these factors is used by the scale to calculate and display the weight on the Scale Display mounted in the cab.
Loup Link Ready
Compatible with Loup Link software for wireless loading data transfer. With it custom load reports can be created based on criteria such as Product or Customer name or material loaded over a specific date range. Click here to read more.
Wireless Telemetry
Use with model 8000i
2-way communication with loader and office PC
900 mHz 1 watt data radio
5 mile line of site transmission
License-free operation
Mobile radio 7vv-28v operation
Data management with Load Link 200 software
ICP 300 Printer
Benefits
Ensure Trucks are Loaded correctly the first time.
Reduce trips to the scale, save time and money by making sure trucks are loaded right the first time.
Weighing is "while you lift", no stopping the bucket!
Improve the efficiency of your operation by not stopping the wheel loader to weigh product. Saving time, increasing production and profit.
Provides Load Records that can be Printed.
Using the ICP 300 Printer, print receipts for customer records.
Provides Management Records that can be printed or Data Logged.
Using the built-in SD card slot, customer and product data can be stored for record keeping
Display Features
Dual Pressure Sensors to assure highest degree of accuracy.
Uses differential pressure to determine Weight in Bucket.
Automatic "Speed Compensated" Dynamic Weighing, no stopping the bucket.
Displays individual Bucket Weight, Total Loaded and Target Weight.
Displays Customer Name, Product Name and Time of Day.
Large LCD Display in Rugged ABS case, supplied with universal mounting bracket allowing for adjustment to view at any angle.
Live last Bucket tip-off and Reweigh Bucket for Target Load accuracy.
Internal Memory for up to 1000 customers or products.
Optional In-Cab Printer
Built-in SD Card slot for easy data collection.
Optional Wireless communications, loader to office via Load 200 Software.
Customer and Product reports.
Daily Load Reports.
Automatic Bucket "add" to the total loaded.
Minimal operator interface to the Scale System. Easy to Use!