Loup Elite Drill Monitor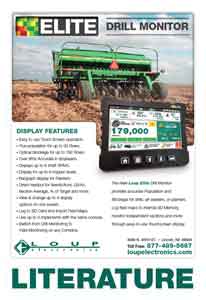 The New Loup Elite Drill Monitor provides accurate Seeds/Acre population for any drill, Air Seeder or Planter. Log field maps to SD Memory, view section averages, control active sections and more through easy-to-use Touchscreen display.
Display Features
Easy to use Touch Screen operation
True population for up to 32 Rows.
Display Independent section averages
Set your target population rate
Log Field Maps to SD Card
Load ISOXML data into any Mapping Software
Learn up to 3 implements including planters.
Optical blockage for up to 192 Rows.
Over 95% Accurate in Soybeans.
Dispays up to 6 shaft RPM's.
Bargraph display for up to 6 hopper levels.
Fan Speed
Direct readout for Seeds/Acre, Seeds/Foot,
View & change up to 4 display options on one screen.
Request a Quote: